Preproduction CGI image shown.
Meet the Broncos
The Bronco Family is vast, with a reach as far as you're willing to take it and a legacy that spans generations.The entire Bronco family is designed, engineered and built for adventure. So get ready to mount up and get dirty because the one and only legend is making its long awaited return.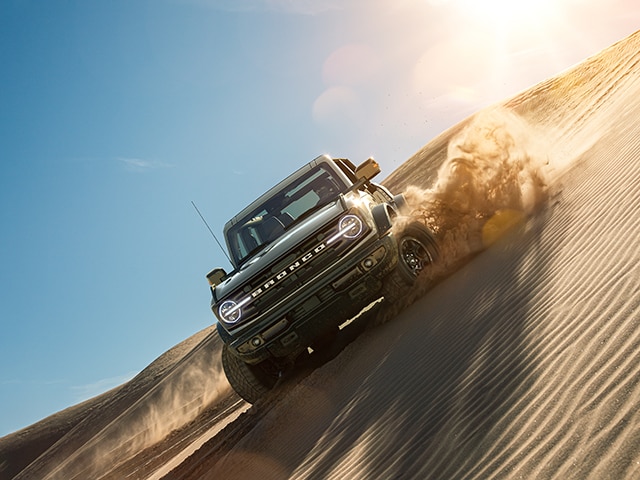 The 2021 Bronco
There's a whole world out there just waiting to be discovered. To find it you have to break rules, push boundaries and climb over the barriers in your way. With its relentless toughness and durability, the all-new Bronco was built to carry outdoor enthusiasts to wherever the wilderness calls. Available in two- or four-door models.
Preproduction CGI image shown. Available beginning spring 2021.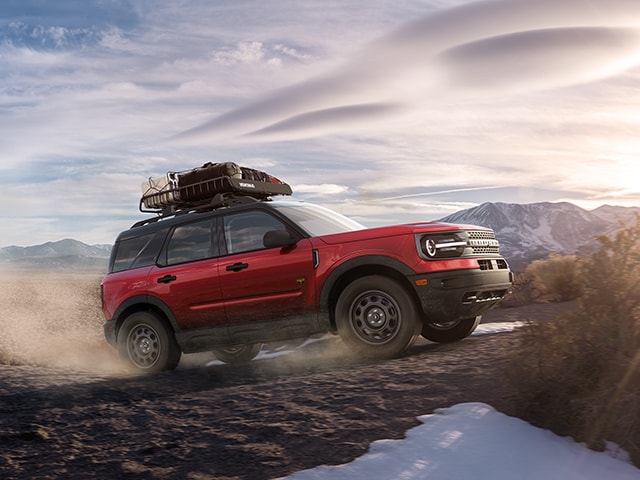 The 2021 Bronco Sport
Meet the latest in the family. The all-new Bronco Sport is your wilderness guide with four unique series engineered to match the way you experience the outdoors. Each, expertly equipped to get you out there - To the mountain ranges, the woodland trails, and the scenic shores. Your adventure begins in a Bronco Sport, and it never ends. Customize and order your Bronco Sport now, with your Ford Dealer.
Bokan Ford is Your Destination for the All-New Ford Bronco
An All-Terrain SUV Favorite Returns with a Refresh Designed and Top-Tier Performance
The Ford Bronco. For a certain type of St. Albans driver, that's a name that means something. Legendary in the past for its peerless off-roading grit, drivers all over Vermont have been pining for a new model to bring this all-terrain classic back into the modern world.
With the all-new 2021 Ford Bronco, that's exactly what Ford intends to do.
Hitting the road this year, the 2021 Bronco will present an all-new take on this off-roading favorite. With a rugged design, a rich suite of features and top-tier performance options, the new SUV will show a fresh generation of Colchester, VT drivers why the Bronco looms so large in the memory of the market.
Rugged High Performance Comes Standard
Even just at a glance, the 2021 Ford Bronco looks like an SUV that can handle anything. Luckily, its design is for more than just show. With its high ground clearance and built-to-take-a-beating chassis, it's designed to tackle any obstacle you can throw at it! And with its powerful engine options? You'll have no trouble muscling through rain, snow, dirt, mud, and more.
For its base engine, the Bronco uses a 2.3-liter turbocharged inline-4 capable of 270 horsepower and 310 pounds-feet of torque. Drivers looking for more than that will enjoy the Bronco's available 2.7-liter turbocharged V6. Capable of 310 horsepower and 400 pounds-feet of torque, it provides power to fuel all your most ambitious adventures. Paired with a 10-speed automatic transmission, it adds up to a smooth ride too!
Two Doors or Four? Find the Options You Want Most
For the first time ever, the new Ford Bronco will offer options for both two and four-door designs. The four-door option is perfect for drivers who want the Ford Bronco's grit, but a touch more practical for everyday driving.
It doesn't hurt either, of course, that the 2021 Bronco provides a stylish and robust interior too. While it works hard to maintain its classic Ford roots, the Bronco feels like a fresh and modern car. And that's more than skin deep!
The Ford Bronco can come equipped with a swathe of modern features. These include Ford's Sync 4 infotainment system with Apple CarPlay/Android Auto. Advanced active safety features to assist you during your everyday commutes, and a built-in navigation system to guide you from one excursion to the next. There's even an advanced rearview camera that can show you the terrain in front of your rear tires as you drive in reverse.
Reserve Your Ford Bronco for Purchase Today!
Do you want to get in on the ground floor with a new 2021 Ford Bronco? Your best first step is a phone call to Bokan Ford. Serving drivers from Stowe to Milton, VT, our Ford sales experts can answer any questions you have about the new SUV. We'd be happy to provide a full rundown of its impressive package and help choose the right options for you.
More importantly? We can help you reserve a Ford Bronco for yourself! The 2021 Bronco isn't available for purchase yet, but we can set it up so you'll be among the first to drive one home when they arrive at our dealership.
Our new Ford inventory serves drivers in Morrisville, Swanton, VT, and more. We'd love the opportunity to show you everything that our Vermont-based dealership has to offer. Don't hesitate to get in touch with us anytime to find out what's available.